Visit the Site
Go to the site URL (address) provided to you. It will be in the form of either "[something].filetransfers.net" or "[something].filegenius.com". The URL may also include a "/fileDrop" at the end of it.
You will come to a screen that will have a login area on the left and a FileDrop area on the right. Click on link that says Upload via the FileDrop. If you come to a screen that looks like the one below, continue to the next step.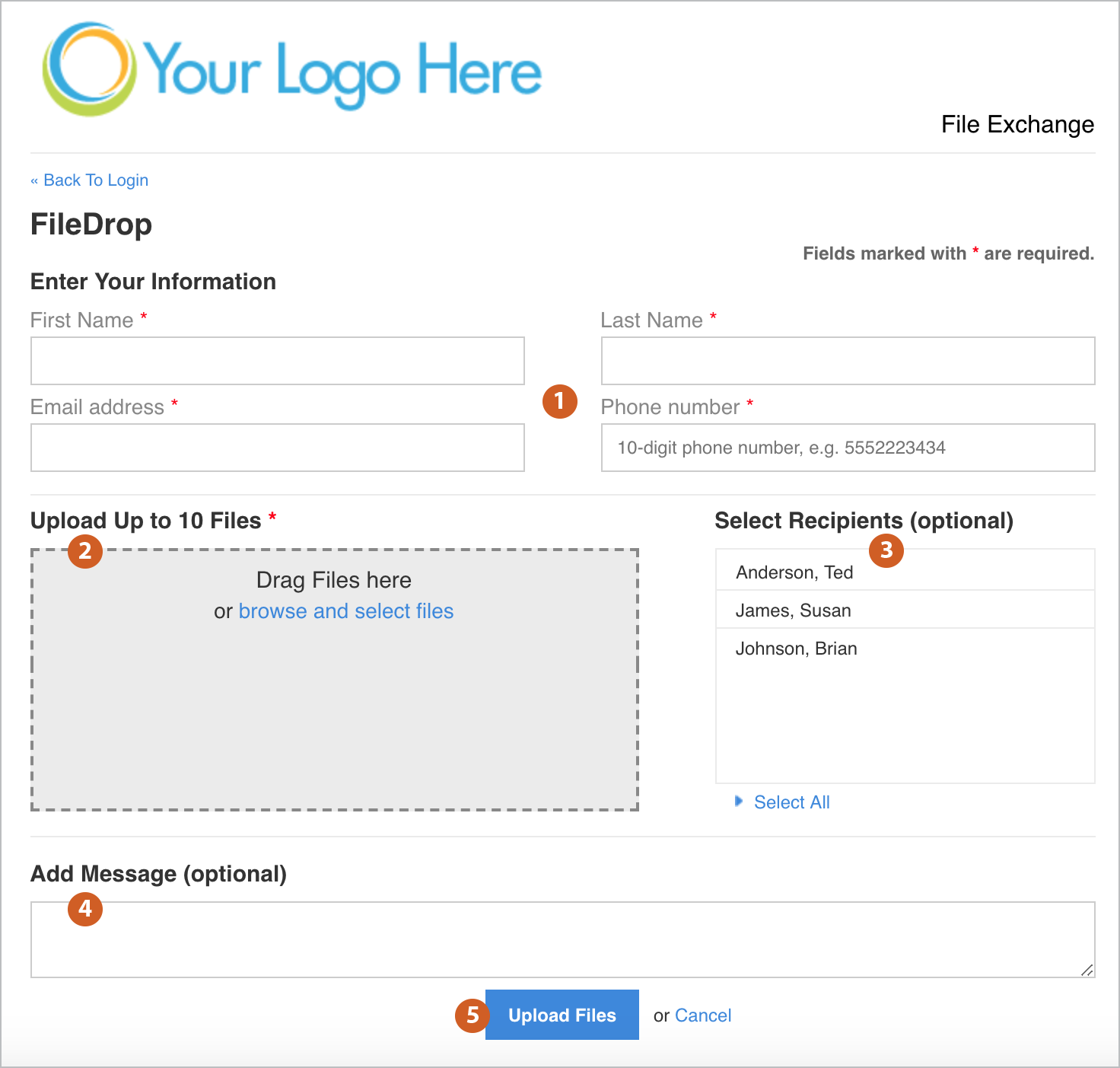 (Orange numbers correspond to the orange circles in the user interface screen shown above.)
Enter Your Information

(1)
On the shadowbox window that appears, fill in your first and last name, email address and phone number. All four boxes are required.


Select Your File(s)

(2)
Below, under Upload Up to 10 Files, drag and drop files into the Drag Files Here box or click the "browse and select files" button. A window will appear allowing you to browse your computer files to locate the file you wish to upload. You can hold Shift or Ctrl/Alt keys to select multiple files. Once you have selected the file(s) you want, click Open.


Select Recipients (Optional)

(3)
Depending on how the site administrator has the options set, you may see an area called Select Recipients with one or more names. If you wish to have one or more of the people listed be notified if your upload, simply click their names (clicking again to unselect). Or, if you wish everyone to be notified, click the Select All link (if available).


Add Message (Optional)

(4)
If you wish to include a comment on your files, you may enter one in the box below Comment on this upload.


Upload

(5)
When ready, click the blue Upload Files button. NOTE: If this button does not appear, you may have not filled in all of the required information. Make sure your phone number has 10 digits and your email address is properly formatted.