(All subscriptions | Admins only)
User Self-Creation allows people to create their own user on your site without the need for an Admin or Sub-admin to do the initial setup. By sending someone a link, that person can then enter all of their own contact information (name, email, etc.) and be automatically added to a new or existing workspaces with permissions specified by an Admin. When a user completes the self-signup process, they are immediately emailed their login information and can begin using the site.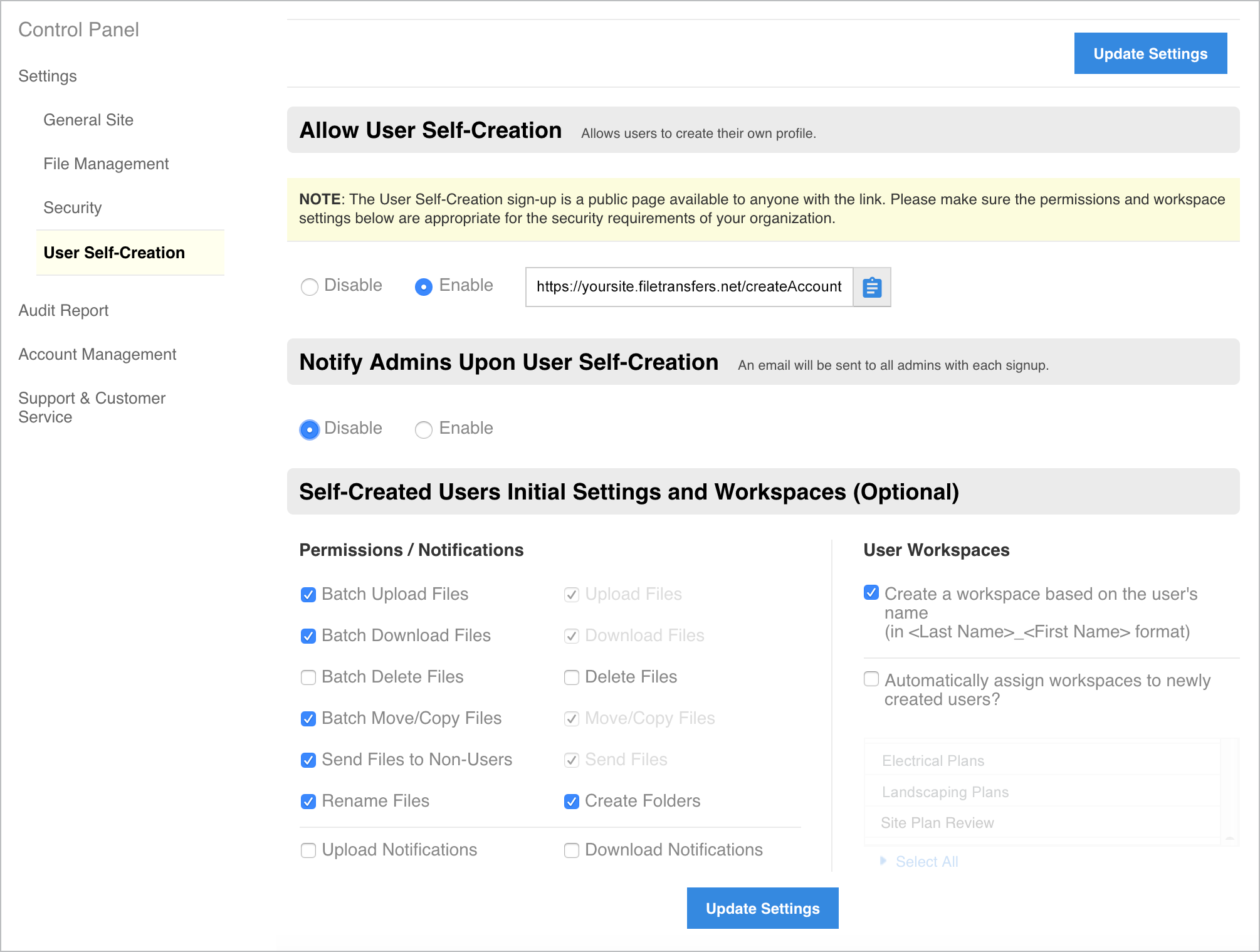 To use this feature, first select the "Enable" radio button. The URL (address) of the signup page will become active along with a link to copy the address to your clipboard so you can send it to those you wish to sign up.
IMPORTANT: The User Self-Creation sign-up is a public page available to anyone with the link. Please make sure the permissions and workspace settings are appropriate for the security requirements of your organization. For example, if new users are added to a workspace with proprietary information, it's possible for an unintended individual to obtain the link and use it to sign up, gaining access to the workspace. Self-created users should only be assigned to workspaces with information considered "public" (or added to workspaces automatically created based on their name, would be empty by default).


Notify Admins Upon User Self-Creation
Enabling this feature will notify the Admins on your site when a user signs up through the User Self-Creation feature, providing the field information the user submitted (name, email, etc.).


Permissions/Notifications
Here you can select which permissions and/or notifications you wish users to initially have upon completing the sign-up. Note that this will apply to ALL users who sign up through this feature, but an Admin or Sub-admin can edit the user later if different permissions are desired.


User Workspaces
This defines which workspace(s) the user belongs to upon sign-up, as a user must belong to at least one workspace. The default is "Create a workspace based on the user's name (in <Last Name>_<First name> format). For instance, if a user with the name "John Smith" signs up, the system will create a workspace named "Smith_John" and assign this user to it. On the offhand chance a user with an identical name signs up (or the same user signs up more than once), the workspace will add a sequential number to the end (e.g. "Smith_John1").
You can also assign all new users to existing workspaces by selecting "Automatically assign workspaces to newly created users?" and choosing one or more workspaces from the list below it. This is helpful if your organization has a public workspace that it wishes all users to have access to.
As always, be sure to click Update Settings when finished.