(Business/Corporate Subscriptions Only)


Guest Access allows an Admin or Sub-admin to create an area for non-users (guests) to upload and/or download files without setting them up as a user. Possible uses of this feature include:
A location-specific "FileDrop" for receiving files from non-users.
A public file repository for sharing documents without requiring a login.
A time-limited area for sharing and/or receiving files that automatically disables access on a certain date.
A Guest Access is created within a folder in any workspace except the Home workspace (which is visible to Admins only). For more information on creating a Guest Access Area, please see: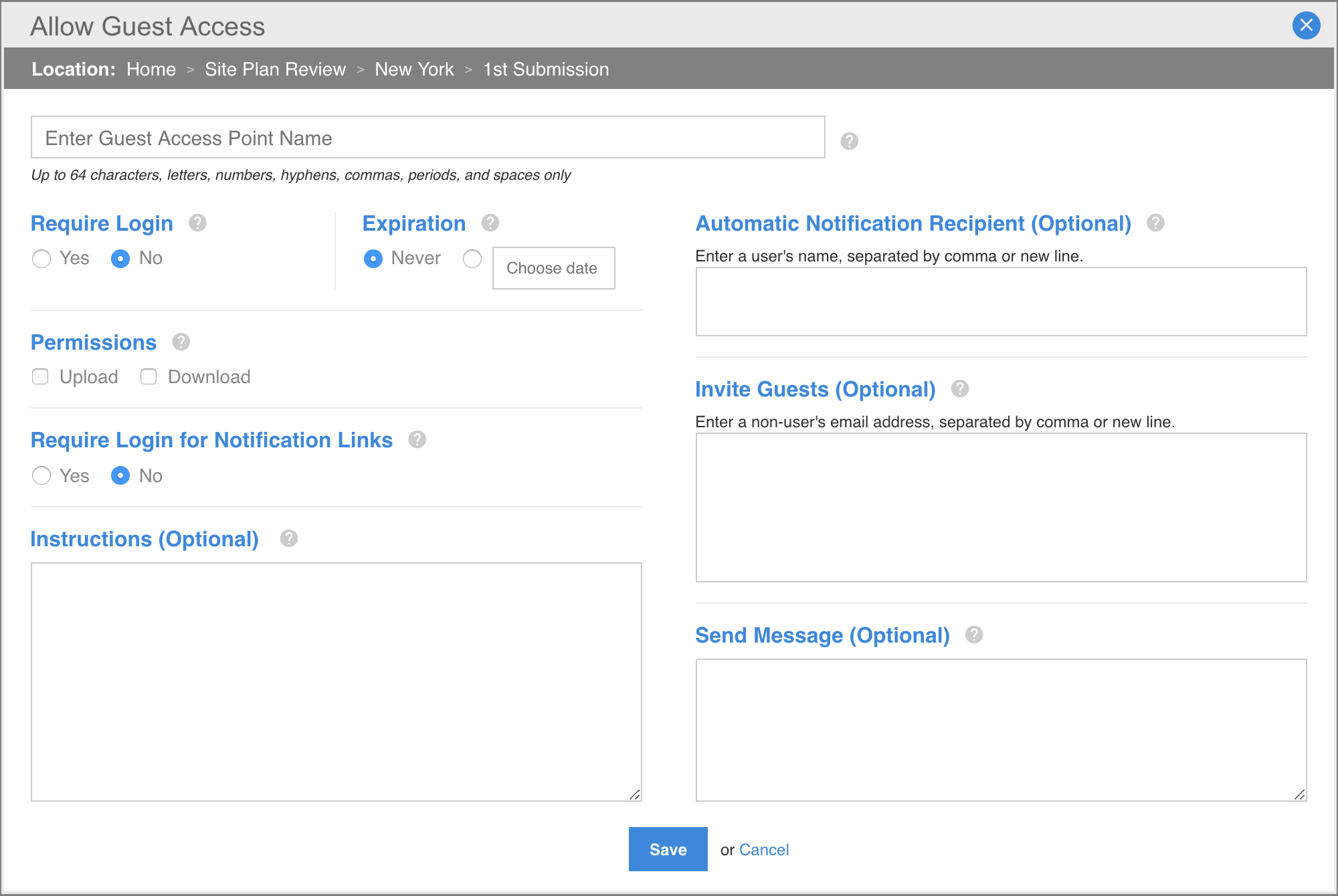 NOTE: Be sure to always click "Save" on the Allow Guest Access window when you're finished adding/editing information.


Guest Access Name
This is the name of your Guest Access area. This name will also be used to create the URL for this area and will be displayed once the Guest Access is successfully saved. Example: If your Guest Access is named "Plans", your URL would be "[yoursite].filetransfers.com/guestAccess/Plans".
Once you click Save, a window will appear showing the Guest Access URL and provide a button to copy the link.
Important: If you edit your Guest Access and change the name of your access area, your URL will also change and you will need to alert any necessary guests or re-invite them through the Invite Guest feature (below).


Require Login
Selecting "Yes" sends any email addresses you enter under Invite Users an auto-generated password. Guests must use this password in order to access the Guest Access area. Selecting "No" means anyone with the Guest Access link can view and use the page.


Permissions
Checking "Upload" allows guests to upload files to this location while "Download" permits file downloads. At least one option must be checked.
Selecting "Upload" only creates, in essence, a folder-specific FileDrop, allowing you to define where specific clients/customers can upload their files without making them a user.
Choosing "Download" only is useful as a document repository, where guests can view and download files in this location. Note: Folders in this location are not accessible to guests for security reasons.
You can also select both options when both Upload and Download are necessary.


Expiration
Setting an Expiration Date disables the Guest Access area URL after that date. This does not delete any files nor the Guest Access itself, and it can be reactivated by selecting "Never" or choosing another date in the future.


Require Login for Notification Links
When a recipient receives an email notification, selecting "Yes" will require them to log in before they can download a file from the link in the notification. Selecting "No" allows them to download without logging in but is less secure.


Instructions
Enter instructions for your guests that will appear on the Guest Access page. This could be used to instruct users to include certain information in the message field or to contact a particular person after uploading.


Automatic Notification Recipient
Any member of the workspace who has Notifications turned on for this location will automatically receive a notification when a guest uploads and/or downloads a file, but you can add additional users here as well. Just begin typing the name or username of a user within the field and any users matching what you've typed will appear in a list. Clicking on a name will add that user to the list and they will be notified when a file is uploaded and/or downloaded from the Guest Access area.


Invite Guests
By entering email addresses, guests will receive an invitation to upload and/or download in the Guest Access area. If Require Login has been selected a password will be included in the message and must be used along with their username (email address) to log in.
If a guest needs to be re-invited (say, they lost their original invitation email), hover over the user's name and select "Resend Invite" from the tooltip.
To remove someone's invitation (so their login information no longer works), click the "X" next to the persons name.


Send Message
Text entered here will be included with invitation emails sent to guests.
Audit Reports for Guest Access Transactions
Admins may wish to run Audit Reports of Guest Access transactions. If you go to Control Panel --> Audit Report --> Create Report, under the Action Type drop-down menu, there are now four additional options:
Guest Access Logins/Logout
Guest Access Downloads
Guest Access Uploads
Guest Access Views
With these you can see who has logged in and out of a Guest Access (if you have Require Login turned on), what has been uploaded or downloaded and which files someone has viewed the Preview of. Please note that for Guest Access Downloads, unless you had "Require Login" turned on, it won't be able to tell you who downloaded the file, since there's no way to track who comes to that page without them logging in.